A slightly different request, but one that touches on SS remembering previous actions, is the ability to remember which topic you last visited within a book. If I go to one of the books I created and select an entry as follows...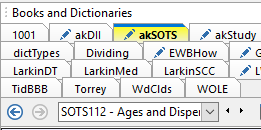 If I then switch to a different book.
...and after that go back to the book I previously visited, the first entry is selected rather than the one I last viewed. Earlier I was looking at the entry named SOTS112 but when I came back to this book it defaults back to the first entry SOTS111.