Unzip file contents to SwordSearcher User Directory
It should create a new user book called T2Cr. There will also be a calendar template file (step 5 below) and a folder called T2Cr-Assets containing an image.
Clicking on a verse reference in the user book should bring up a verselist for the reading portion.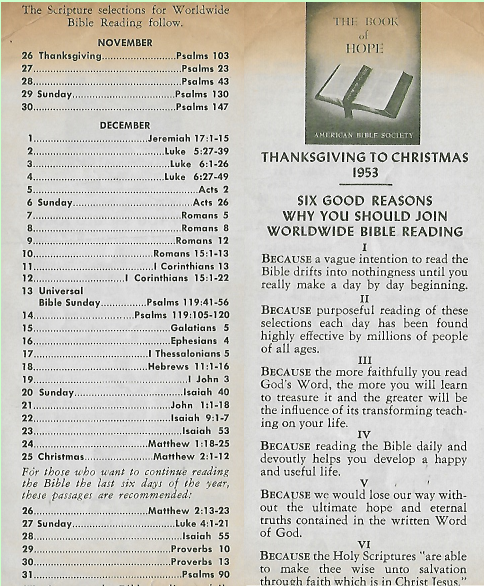 ==============================================
A calendar template is also included so you can create a reading schedule based on the SS calendar tool. Here are the steps:
1. Click on the calendar icon
on the main toolbar
2. Click on either icon at the bottom of the calendar window

to create a new calendar.
3. Click New Plan
4. Select

option.
5. Import the template file called "
Thanksgiving to Christmas (1953 tract WorldWide Bible Reading.ssplan)
". It should have been unzipped to the SS user directory.
6. Use the current date or a future start date (Nov 23, 2017) and give the new plan a title.
7. Save it and begin reading by clicking on the main toolbar calendar icon.